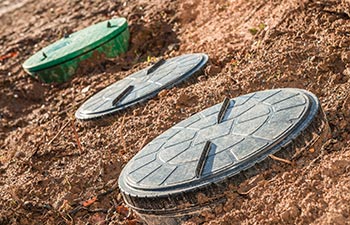 Septic tank installation can be performed when building a new home, when an old tank reaches the end of its lifespan or when the tank is too small for your current household occupancy. Regardless of the reason, it is common to want to know what to expect during your septic installation process. By hiring Metro Septic, you can trust that our experts have installed, maintained and repaired countless septic tanks across northern Georgia. To help you understand what is involved, here are three broad steps that will be taken.
#1 Obtaining Permits

Septic tanks must be installed under the written regulations and codes from the city. Before a contractor can touch your property, he must get all necessary permits from the city (or state) regarding septic systems. Without these permits, the process can be shut down and/or greatly delayed.

#2 Excavating the Site

Once the installation site has been determined and the permits are obtained, it is time to dig. Excavating the installation site is important, as the tank should be buried deep underground to uphold proper sanitation and health codes. The digging will also include creating trenches for the drain lines and other plumbing units to be placed. If you are replacing an old septic system, your old plumbing equipment may be removed at this time.

#3 Installing the Septic Tank and Equipment

The final step of your septic installation involves placing the septic tank, pipes and other materials in their proper position underground. This may involve heavy machinery but will be done with the utmost caution and respect to your property. Our team will then bury the septic tank with a mixture of gravel and soil. Once buried, we will conduct a final inspection of your new septic system to make sure it can efficiently and safely remove sewage waste from your home. After the completion of this process, we always take the time to explain the rules for septic tank usage and maintenance to ensure you get the largest return on your septic installation investment.
Ready to learn more about septic tank installation from our professionals at Metro Septic? Not sure a septic system is right for your family? Call our Cartersville team today. We look forward to providing honest septic services to your home or business.