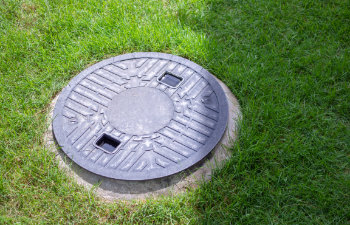 If you have started a company or recently acquired a business in which the facility relies on a septic system, there are some things you need to know. Owning a septic tank, whether it is a business or a residence, requires some specific maintenance and knowledge to avoid a septic disaster. Keep in mind that a failing or backed up septic tank can not only be disruptive to your employees and customers, but it can also result in lost profits and other threats that impact the success of your business.
At Metro Septic, we proudly offer a full menu of commercial septic services to Greater Atlanta business owners. To this end, we value the importance of educating commercial clients about how they can protect their septic system and avoid costly repairs. Whether you own a small restaurant that serves the public or large office building that only houses your employees, it is important to know how to properly take care of septic system.
We recommend the following steps to protect your commercial septic system:
Schedule Regular Maintenance
Have your septic system inspected and pumped on a regular basis, typically every 1-3 years, depending on usage and the size of the system. Regular maintenance is the key to preventing backups while also prolonging the life of the system. Keep in mind that your septic pumping schedule may be more frequent if you own a restaurant or other busy venue that is routinely open to the public.
Know How to Properly Use Your Septic System
The toilets, sinks and drains of a septic system cannot be used like those of a sewer. It is important that you educate yourself about proper septic use as well as anyone else in your business that will be using your plumbing system. Two of the most important rules include not flushing non-biodegradable items down the toilet, such as feminine hygiene products, paper towels, and wipes as well as avoiding pouring grease, oil, and chemicals down the drain as they can clog the system or kill the beneficial bacteria that help break down waste.
Conserve Water as Much as Possible
Reduce water usage in your facility by installing low-flow fixtures and encouraging employees to conserve water. Excess water can overload the system and prevent proper treatment of waste.
Avoid Parking or Driving Over the Septic System
Heavy vehicles or equipment can compact the soil and damage the septic system components, causing backups or failure. Be mindful of where your delivery trucks go and educate your commercial landscaping company about the whereabouts of your septic tank and drain field.
Keep Records
As a business owner, there are many things to track, and your septic system service should be one of them. Keep records of maintenance, repairs, and inspections of the septic system, including any permits or certifications. This can help you stay in compliance with local regulations and prevent costly penalties.
Hire Metro Septic to Help
Hiring a licensed and experienced professional to perform maintenance, repairs, and inspections on your commercial septic system is a must. At Metro Septic, we can help identify potential issues before they become more significant problems. We never want your septic system to be a reason that you are losing profits or losing business! Call our Cartersville commercial septic team today to learn more.