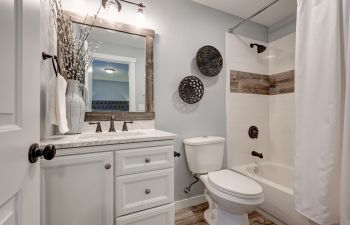 Back-to-school season is upon us. It is time to let go of that lazy summer schedule and jump into a more rigid family routine. While you may be eager to gather school supplies and get your outfits in order before school begins, don't forget about making some necessary changes to your plumbing routine. That's right, if you have multiple kids getting ready for school along with parents who need to be at work on time, your bathrooms can be overworked and become a source of disruption instead of convenience. From losing hot water and fogging up mirrors to clogged drains and mold, here are some back-to-school plumbing tips you can adopt for less stressful mornings and more functional plumbing in your household:
Stagger Your Showers

With multiple household members taking a shower in the morning hours, it can put high demands on your hot water heater. This may cause the last occupants to have a cold or lukewarm shower – which leads to a grumpy day. Consider encouraging some family members to shower at night and others the next morning to allow time for your water heater to do its job more efficiently.

Keep Your Drains Clear

Back to back showers and baths can quickly lead to drain clogs and backups if you aren't careful. Take the time to clear out hair and soap remnants on the surface of the drain after each shower. If you do experience a clog, try to avoid chemical drain cleaners. You may try a plumber's auger, but don't hesistate to call a professional for stubborn drain problems and longer-lasting solutions.

Utilize the Bathroom Fan

You may use your fan to dissipate toilet odors, but it can also be very beneficial in keeping the bathroom at a lower humidity level when multiple showers are taken in a row. Windows, mirrors and walls can accumulate mold and mildew when humidity consistently remains high.

Turn Down Your Water Heater

Do you have younger children who are starting to shower by themselves? Consider lowering your water heater temp to a max of 120 degrees so that accidental scalding can't occur.

Invest in Energy-Efficient Fixtures

Last but not least, be sure you are conserving as much water as possible by purchasing an energy-efficient shower head and low-flow toilet. These types of fixtures can drastically reduce your water bill over time.
For more tips on how to get "plumbing ready" for school this year, contact Metro Septic. It can also be a perfect time for a professional to evaluate your entire system, ensuring any leaks or minor problems are taken care of before your system is put on high demand.