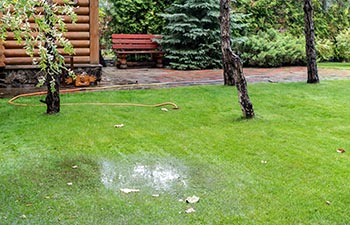 The drainfield is a major component of your septic system. It is typically located on a stretch of lawn in your side yard or back yard. A drainfield involves a network of perforated pipes laid in gravel-filled trenches or beds. It is designed to absorb the effluent (or wastewater) that is discharged from your septic tank. This wastewater trickles out of the pipes, through the gravel layer, and into the soil for final treatment and disposal.
You may not think too much about your drainfield, but there are some definite "don'ts" that you need to be aware of so that you avoid septic system failure. When it comes to your drainfield, Do Not:
Build or pave on top of your drainfield
Plant shrubs or trees too close, they need to be at least 30 feet away
Park cars, have large animals (livestock) or use heavy machinery over your drainfield
Install irrigation over the drainfield
Plant a vegetable garden within your drainfield (food contamination risk)
Cover the drainfield with landscaping plastic (your drainfield needs air)
In addition, you should also have a designated replacement (or reserve) drainfield to be used if necessary. Always know where it is located and treat it as you would your existing drainfield.
For more information on caring for your septic tank drainfield, please call Metro Septic and Plumbing. We are where Cartersville turns to for all types of septic installs and repairs.