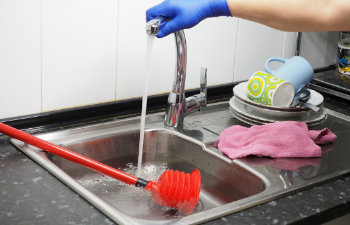 No one likes to be met with a clogged drain in their house? If you own a septic tank, however, you may not be sure who to call. Does a clogged drain warrant a call to a plumber or a professional septic company? At Metro Septic, we don't want our clients to time and waste money on service calls that can't fix the problem. A clogged drain could simply mean a plumbing issue, or it could be a warning sign that your septic tank needs attention – which is often beyond the realm of expertise for the average plumber.
To determine which professional to hire for your clogged drain, ask yourself the following:
How many drains are clogged?
Check all of the drains in your home. Just one toilet or sink that is clogged is a better indication that you've got a plumbing problem rather than a septic issue. Multiple clogs points to septic failure.
How long has it been since you had your septic tank cleaned or pumped?
If it has been longer than 3-5 years since you've scheduled a routine septic pumping, you'll need to strongly consider the possibility that a full or blocked septic tank is the culprit for your clogged drain inside your home.
Is wastewater level normal or high?
Inside your tank, if your wastewater level is less than 8 inches from the top, you should call a septic professional right away, as this is an indication your tank is full and may back up.
Does the inlet pipe have blockage or grease build-up?
Even if the wastewater level is normal, it could still be your septic tank that is causing the drain clog. The inlet pipe may be the source of blockage.
At Metro Septic, we respond to clogged drains and septic repairs quickly. We know it is a disruption in your home, but may also be a major threat to your entire septic system. Call our septic experts today to learn more about our affordable maintenance and repair services near Cartersville.