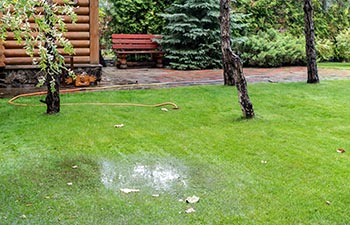 When it comes to your septic system, there are many working parts. While you may have a tendency to blame your pipes or your septic tank for the cause of your problems, your drain field may also be the source. Drain field problems require a certified septic professional, both for accurate diagnosis and repairs. It is helpful to understand what can go wrong with your drain field and what the common culprits are:
Tree Roots – The trees that you planted years ago may have expanded their root systems. These roots can infiltrate your drain field space and wreak havoc on your system.
Grease – Never put grease down your drains, as the consequences can filter all the way to your drain field. Grease can cut off oxygen in the drain field, which prohibits its primary function.
Household Cleaners– It is imperative that your septic system maintains a proper balance to operate correctly. Using too much household cleaners can disrupt this balance and kill the bacteria that is necessary to reduce excess sludge in your tank.
Vehicles – Your drain field should never be a place that you operate heavy machinery or park your cars. Not only can the piping of your drain field get damaged, but the soil can become compacted too, which is equally problematic.
Past Due Pumping – Last but not least, if it has been more than 3 to 5 years since your last septic tank pumping or cleaning, the health of your entire system is at risk and drain field problems can result.
If you notice a foul odor or pools of water on your drain field, these are telltale signs that you need to call a professional. A septic system backup is never something to take lightly. At Metro Septic, our contractors can provide affordable repairs and help you keep your septic system healthy in the future.