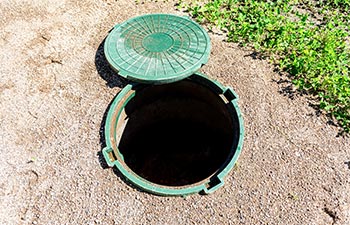 We've all heard the saying "out of sight, out of mind." While this can be a positive approach to many things in life, it does not prove beneficial in terms of your septic system. Your septic tank is built underground, and it should stay that way. However, older septic systems were designed to stay completely hidden, with no septic riser installed to provide insight and access into your septic tank operation.
What is a septic riser?
Septic risers are almost always a standard component on modern septic systems. They are large round pipes, either plastic or concrete, that are fitted over the septic tank cleanout opening. Septic risers extend from the cleanout opening to the ground level. This gives easy access to your septic tank when it needs maintenance or repairs.
Why is it important to have a septic riser?
Why would a homeowner appreciate improved visibility and easier access to a septic tank? There are many reasons that a septic riser can save you in the long-run. Since septic risers make it quick and easy to access your septic tank when thing go wrong or seem suspicious, they can save you the hassle and expense of digging up your yard to find the septic tank opening. In addition, the quicker the access in an emergency situation, the less damage and repairs you'll face within your plumbing system or even inside your home. Septic risers also prevent the need for a yard dig up when it is time to pump your tank. Speaking of pumping your tank, it should be done every 2-3 years and a septic riser can be a physical reminder to schedule this important task.
Call Metro Septic to learn more
If you are hesitant about installing a more visible component of your septic system, you should know that septic risers are designed and installed to blend in with your surroundings, and they don't have to be an eyesore. If your septic system is an older model without a septic riser, please contact Metro Septic to learn more about the cost and benefits of installing one. We proudly provide comprehensive septic services for the greater Cartersville area.