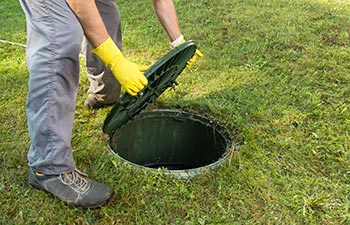 Are you experiencing drain field problems at your Lilburn home or business? At Metro Septic, we understand the frustration and inconvenience involved when your drain field is not functioning properly.  Our septic experts are equipped with the knowledge and skill you need to properly detect your drain field problem and successfully repair it in a timely manner.
Signs of Drain Field Problems
A septic drain field is, also called a leach drain or leach field, is a designated area of your land that is used to filter the discharge or sewage from the septic system. They can be different sizes depending on the size and capacity of your specific septic tank system. How do you know if your drain field needs attention? We want our customers to call us if they notice any of the following:
Odors in the yard
Plumbing backed up
Ground by drain field is mushy or wet
Grass over the rain field is greener than elsewhere
Repairing a Drain Field Before It's Too Late
It is important to repair a drain field that is backed up into your drain lines. Your drain could be problematic due to a build-up of biomat, a gooey substance caused by anaerobic bacteria from human waste. Biomat in the soil and around the leech lines in the drain field can prevent liquid from being absorbed into the soil. When this happens, wastewater from your septic system can seep to the surface of the drain field or back up into your drain lines. This can lead to complete septic system failure and health hazards to your family due to contamination.
Metro Septic is your Cartersville source for professional, top quality drain field repairs when you need it most. Call us today to learn more.