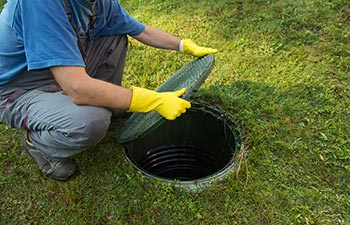 Whether you are single or have a large family, doing laundry is unfortunately a necessary task. Your washing machine is one of the many home appliances that utilize your plumbing system to operate effectively. If you are doing several loads of laundry a day, you need to be careful that your quest for clean clothes is not compromising your septic system.
Here's how to avoid wastewater mishaps from your washing machine:
Choose All-Natural Detergents –Your septic system works best without the addition of toxic chemicals poured down your drains. This includes home cleaning agents, as well as your laundry detergent. Such harsh, antibacterial ingredients can actually kill the good bacteria in your septic tank that is needed to break down waste. To keep your tank healthy, choose all-natural liquid detergents that do not contain bleach or phosphates.
Clean Out Lint Trays- We aren't talking about your dryer here, although that's always a good idea too. Your washing machine also has a lint tray that needs to be routinely cleaned. Otherwise, you may have to deal with a clog or blockage in your pipes and an eventual septic tank backup in your home.
Spread Out Laundry Loads- The more water you use while doing laundry, the more stress your septic system endures. A high efficiency washer is the best way to go. However, you should consider spreading out your loads to reduce unnecessary stress on your septic system. For example, do 1 big load per day instead of several small loads to maximize water usage. This also allows your septic tank to filter solid wastes before another round of water passes through.
These may seem like insignificant changes, but they can make a profound difference in the efficiency and operation of your septic tank. For more tips on preserving your home septic tank, please contact Metro Septic and Plumbing. Your plumbing is meant to work for you, not against you.