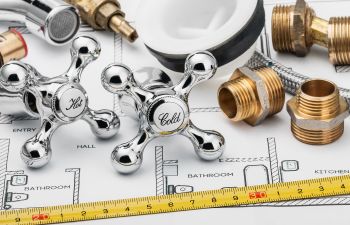 Of all the pipes in your home, the main water line is one to protect. It serves the critical role of supplying your home with fresh water on a daily basis. Unfortunately, just like other plumbing pipes, there are factors that can cause this central line to leak, crack or break. Whether it is tree roots or corrosion, it is important that you recognize the signs of main water line damage so that you can schedule a prompt water line repair:
#1 Brown Tinted Water

If you notice that your water in your home has a brownish-tint to it, this can be an indication that dirt or soil has entered the main line pipe through cracks or a sign that there is corrosion (rust) within your pipes.

#2 Soggy Lawn

A primary warning sign of a water line leak or break is areas of standing water in your lawn, or extra soggy grass when the surrounding turf is not wet. This typically suggests that your water line is cracked and leaking water underneath your lawn on its way to your house.

#3 Unusual Sounds

Many homeowners notice a sound of running water or humming noise within their pipes when there is a leak. This is most evident at night, when the house is more quiet. This is the vibrating sound that pipes make when there is a leak.

#4 Low Water Pressure

In more extreme cases of water line damage, you may experience a sudden drop in water pressure. This means your water line is losing a substantial amount of water and the normal water pressure cannot be maintained.

#5 High Water Bill

Last but not least, you may not realize you have a water line issue until you get your monthly water bill. A noticeable increase in expense typically points to a leak. It is important to rectify the issue as soon as possible with a professional plumber, as most water municipalities will reimburse you for wasted water if you report and fix the problem.
Have you noticed one or more of the above mentioned warning signs? Let our professional take a look. Metro Septic and Plumbing can perform all types of water line repairs with the efficiency and affordability you deserve!