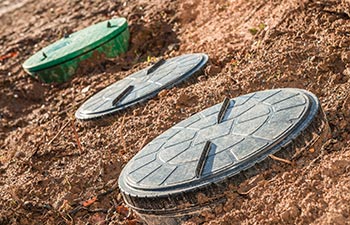 If you own a septic tank, you should already know that a septic pumping is required to keep your home safe and healthy. Most household septic tanks need to be pumped every 3 to 5 years, but this can vary based on the size of your tank and number of occupants in your home. Don't make the mistake of delaying or avoiding septic pumping, this single maintenance service can save you from major issues and costly repairs.
Need to know the real value of scheduling your septic tank pumping on time? Here are four key advantages of a septic tank pumping from Metro Septic:
#1 Prevent Water Contamination

Your septic tank holds waste and allows liquid waste to reach the surface. It is transferred through your drain field and then filtered before it enters the groundwater. However, a tank that is too full will likely clog the drain field, leaving your wastewater unfiltered. There is a risk of contaminants trespassing to your groundwater and posing a threat to your family.

#2 Avoid Drain Backups

Drain backups refer to the "backing up" of wastewater into your drains. This can be a smelly, disruptive problem, and one that should never be ignored. It is a sign that your septic tank has become too full and needs to be pumped immediately.

#3 Stop Toilets from Flushing Slow

Are your toilets flushing slow, gurgling or not flushing at all? A weak or strange toilet flush is another indication that your septic tank is above capacity and needs to be emptied (or pumped).

#4 Stop the Stink

A septic tank that gets cleaned and pumped on schedule shouldn't emit foul odors all the time. However, a septic tank that is full often smells like rotten-eggs. This is toxic sulfur gas and a warning sign that raw sewage could be escaping from your tank.
Protect Your What You Value Most
Septic tank pumping may not be on your highest list of priorities. However, considering the impact that a failed septic tank can have on your home and your family's health, it should be a maintenance service you never miss. To learn more about how often your septic tank needs to be pumped, call Metro Septic today. We offer a full menu of septic services, including maintenance, repairs and installations, at the affordable price you deserve.