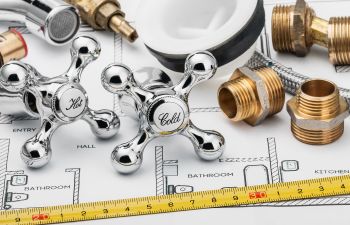 Emergencies of any kind are stressful and unwelcome. However, when they involve your plumbing system, the emergency can quickly damage your home, your convenience and your wallet. While it is just not possible to prevent all plumbing emergencies, there are some things you can do to lessen your chances of experiencing such an urgent disruption.
1. Pay attention to your water heater

Just because your water heater is tucked away in the basement somewhere, doesn't mean it should get neglected. It is critical that you evaluate your water heater on a routine basis and pay attention to symptoms such as water leakage, a gas smell near the unit, unusual noises or rusty water. These are indications that a plumber needs to respond promptly.

2. Don't misuse your garbage disposal

We often take our garbage disposal for granted. While it can be a convenient appliance in the kitchen, it must not be overloaded or misused. If you put too much in your disposal at one time or send items such as shells, potato peelings or coffee grounds down the drain, you could cause more harm than good. Follow proper garbage disposal habits to prevent a plumbing emergency.

3. Be careful what you flush

Your toilet is designed to eliminate waste and toilet paper. Even though an item may market itself as "flushable" doesn't always mean that your plumbing system can handle it. Flushing improper products down your drain creates an open invitation for a plumbing emergency.

4. Keep grease away from your drains

It is tempting to pour small amounts of leftover cooking oil or grease down your drain in the kitchen. However, doing this consistently can clog your plumbing pipes and even damage them over time. Without efficient and healthy pipes, your plumbing system cannot operate as it should.

5. Do not use exposed pipes as hangers

Do you have an unfinished basement with exposed pipes? Please avoid using these as hangers for wet clothes or other items. These indoor plumbing pipes simply aren't constructed to handle external weight like this.

6. Keep a plunger near every toilet

If you have a sudden overflow in your toilet, it is best to have a plunger that you can grab within seconds. Reducing the overflow in a timely manner can prevent water from running onto the floors and causing further issues.

7. Have a good relationship with a trusted plumber

There are times in which your preventative efforts may fail and a plumbing emergency occurs. This is typically a situation in which time is of the essence. Instead of relying on a blind google search or asking neighbors for a plumbing referral, it is beneficial to already have an established contact of someone you can trust for honest plumbing advice and prompt service.
At Metro Septic and Plumbing, we offer 24 hour services because we know that your unexpected plumbing issues don't always occur during normal business hours. Give our Cartersville experts a call today!