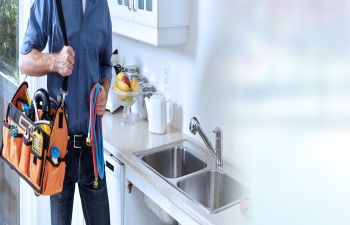 Some of the most important appliances in your home rely on efficient plumbing. In the kitchen, the dishwasher is one of those highly-prized appliances. When a dishwasher shows signs of dysfunction, a clog is a likely culprit. This can involve a clog in the sewer line, in the kitchen sink water supply line, the drain system or the dishwasher itself. Determining the culprit to your clogged and malfunctioning dishwasher is important, not just for your own convenience but to avoid the need for costly repairs if a major plumbing problem goes unfixed.
How do you know if your dishwasher is clogged or simply worn down? Here are some common warning signs of a clogged dishwasher:
#1 Gurgling sounds from drains

This can indicate a clog in main sewer line or secondary line.

#2 Slow drain

If both your dishwasher and kitchen sink are taking longer than usual to drain, there may be a partial clog in the kitchen sewer line.

#3 Water backup in sink

If you notice water is coming up your sink while your dishwasher is running, you may have a food clog in the sink. Run the garbage disposal to eliminate this possibility.

#4 Residual water

Do you see a shallow puddle of water at the bottom of your dishwasher after the completion of its cycle? This is not normal and indicates your appliance is not draining correctly.

#5 Dirty dishes

The last thing you want to find after you run the dishwasher is a rack of unclean dishes. If your dishwasher looks like it is having trouble rinsing or cleaning your dishes, your appliance may not be filling with water due to a clog in your line.
Dishwashers are a modern-day convenience. When this kitchen appliance fails, it can strike panic. Before you run out and buy a brand-new dishwasher, however, consider the possibility of a plumbing clog. Call the experts of Metro Septic and Plumbing to diagnose your dishwasher problems and provide a lasting solution. We have the knowledge, tools and skill it takes to remedy clogged sewer lines.