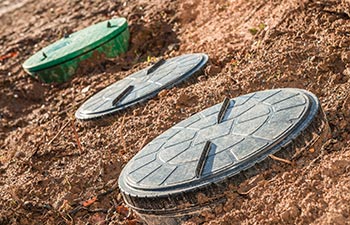 Your septic system is one of the most important systems in your household. Do you even know where you septic tank is located on your property? This is important. Your septic tank needs maintenance and inspection on a regular basis. While only a professional should open your septic tank, you need to know where this vital plumbing process takes place.
Locating a septic tank isn't always easy, especially if you were not given a diagram or "as-built" record when you purchased your home. If you want to avoid the task or it becomes too burdensome, consider calling the professionals of Metro Septic to help. Not only can we tell you exactly where your septic components are located (including the tank and drain field) but we can perform the necessary maintenance and septic pumping it needs to give you another 2 to 3 years of optimal function.
Looking for your septic tank by yourself could be dangerous, especially if you don't have much knowledge of the condition of your tank or you know it is an old system. Collapsing septic systems are a major hazard, as falling into a cesspool, septic tank, or drywell can be life-threatening. If you notice sinking soil or a rusted or wooden septic tank cover, proceed with caution or just call a professional. In addition to the potential of falling, you may also accidently expose yourself to bacterial or viral infections from unsanitary conditions.
The Likely Locations
Older model septic tanks were generally installed in the most discreet areas of the property. Once grass has grown over time, it can be difficult to spot the evidence of your septic tank cover. However, these clues can help determine your septic tank location:
Look for unexplained areas of high or low spots
Look in areas that are 10 to 25 feet from your home but no closer than 5 feet
Keep in mind that your tank is buried at least 4 inches underground, but could be as much as 4 feet
Locate your sewer outlet pipe and walk 10 to 25 feet in front of it
If you are lucky enough to find the septic tank on your own, it's now time to call a professional. At Metro Septic, we carry the needed lifting tools and techniques that it takes to safely open a septic tank lid.