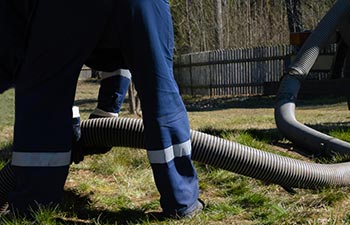 Whether you are building a home or establishing a new business, it is understandable why you want attractive greenery and shade throughout your outdoor space. What you may not consider, however, is the impact that growing trees can have on your septic system over time. A vibrant landscape with large trees often comes with a deep root system. It is the root system that can wreak havoc on the underground pipes and drain lines of your septic system. However, this doesn't mean you have to sacrifice a pretty, shaded yard for the sake of a healthy septic tank. With the help of a skilled septic expert, you can mindfully manage your roots, which can be done chemically or mechanically.
Chemical Root Control
If you've been unsuccessful at solving a stubborn tree root problem, you may want to consider chemical root control. This involves applying a specific solution that kills the threatening roots on contact and prevents further growth. The dead roots will naturally dissolve or be washed away. This solution can also be used on the pipes themselves, to coat them and prevent the invasion of future roots. Chemical root control can typically be performed about once a year with long-term success.
Mechanical Root Control
Mechanical root control is suggested when there is a pipe or drain line that is fully clogged with roots. In such cases, it is best to manually cut away the roots so that your septic system can regain proper function. Many customers opt for the additional step of applying an herbicide so that the roots down grow back, as mechanical root control is a more temporary solution.
If you are experiencing signs of septic backup or failure, take note of your trees. If tree roots are a possible culprit to your clogged pipes, we can help. At Metro Septic, we use advanced camera inspection technology to accurately determine what is compromising the flow of your drain lines and septic tank. We are fully equipped to handle your tree root problem with mechanical or chemical control.