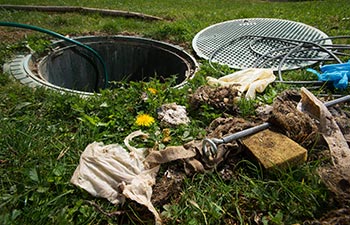 The operation of your septic tank is probably not something you think about on a daily basis. That's because your septic system will generally function just fine on its own for an extended period of time. But that doesn't mean it will never need attention or never fail. And when it comes to septic tank failures, the consequences can be quite detrimental and costly! Septic tanks suffer a variety of damages, ranging from clogs and backups to groundwater contamination and more. One thing is for certain, you'll want to do everything you can to avoid septic problems for your home or business.
The best way you can prevent septic disaster and costly repairs is to schedule a routine septic maintenance service. During this service call, a septic professional will evaluate all components of your septic system, including pipes and parts within the tank itself as well as those that connect to your home and drain field. It is during these visits, that we can typically catch septic malfunctions before they lead to major issues and hundreds or thousands of dollars in repair.
Not only can a septic tank maintenance service save your wallet, it can also protect your health. When your septic tank fails, you have a greater chance of contaminated water leaking you're your property, and this is a significant health concern for your family. It can also cause property damage and pollute your surrounding environment.
Many homeowners question the frequency of septic tank pumping for their system. While there is a general rule of 3 to 5 years, this can vary based on the number of occupants in your home, the size of your tank and how you use your plumbing system. Therefore, when a septic maintenance and evaluation is performed, you can have a more accurate indication of when your tank should be pumped, as a professional will be closely measuring the level of scum and wastewater in your tank.
Is your septic tank healthy? Or could you experience costly septic problems at any moment in time? Let the professionals of Metro Septic take the guesswork out. Schedule your septic maintenance service and save yourself from worry and unbudgeted expenses this coming year!