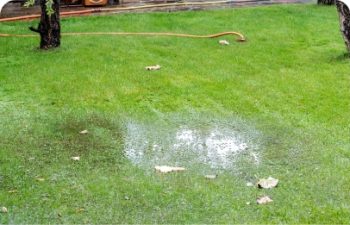 When your septic system shows signs of failure, it is easy to blame the septic tank itself. However, your plumbing troubles may actually be coming from your drain field. The drain field is a critical "last step" of your septic system process. This area of land is designed to filter wastewater that is dispersed from your septic tank. While septic backups can occur from a tank that has not been pumped or faulty components inside the tank, the U.S. Environmental Protection Agency states that 90% of septic failure is caused by the drain field.
Why So Many Drain Field Issues?
A healthy drain field should have gravel and soil that strategically filters and purifies waste water. Many drain fields begin to fail due to the added sodium in our waste systems. This not only comes from our modern-day diets but also our water softeners and household cleaners/detergents. Unfortunately, sodium can make soil less permeable or penetrable. When excess sodium enters your drain field, it creates a "hardpan" layer of earth that makes it nearly impossible for wastewater to pass through and get filtered. In results, the water has nowhere to go but back up into your system resulting in foul odors, slow drains and a soggy lawn. This is known as septic failure caused by your drain field – not your septic tank.
Book Your Septic System Repair in Cartersville
Do you suspect your septic system is failing but not sure where the problem is coming from? That is our job at Metro Septic. We have septic repair experts that use trained skill, innovative technology and years of experience to diagnose septic problems at their source. This allows us to make a quick and long-lasting remedy to your septic system woes. Call Metro Septic today to get your quote.