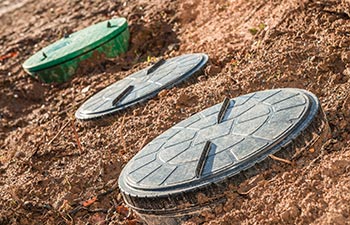 If you are a home or business owner in Georgia, you may not have a say-so in whether you are on a sewer or septic system. While it is common to wish you were on the public sewer system for convenience, there are some noteworthy advantages to having a septic system.
Most neighborhoods that are close to the city rely on a public sewer system. However, if you are outside of the service area, you may need to manage your own wastewater with a septic tank. In a septic system, wastes go directly into the septic tank and are filtered before the liquid effluent is released into a drainfield. With a sewer system, the wastes go directly into a city treatment facility where contaminates are removed and the water is discharged back into the local water supply. If you have a septic system, you'll need to schedule a maintenance pumping every 3-5 years depending on usage. Sewer systems are maintained by the local public works department.
While it may seem like a sewer system is the way to go and the most "hands off" or worry-free approach, septic systems have the following benefits:
Fewer Ongoing Costs: Whenmaintained properly, a septic system generally demands less ongoing expenses. As there are no monthly utility costs from the city or county to pay for upkeep and maintenance.
Easy Maintenance: Septic tanks operate very efficiently. Just one septic pumping every 3 to 5 years is all most septic tanks need to operate well in between time.
Tailored and Trusted Solutions: When relying on a trusted septic company instead of the city to handle your maintenance and repairs, you can know they have your back at every turn. A septic professional that is hired by you will make sure your system is fixed correctly and lasts a long time without disruption to your home or business.
If you have questions about your septic system or need to schedule a routine septic pumping or inspection, call the professionals of Metro Septic. We service all types of plumbing systems, but we are extensively trained in helping you reap the full advantages of owning a septic tank.