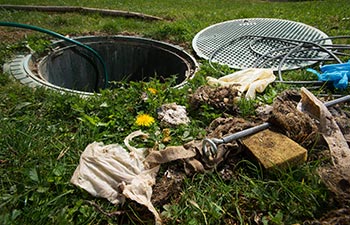 Your septic system, including the tank, lines and drain field, are buried several feet underground. It is understandable, therefore, for homeowners to worry when a septic problem arises. Will it mean digging up your yard and disrupting your attractive landscape? Rest assured that modern digital technology has come to save the day when it comes to diagnosing septic repairs.
There are many warning signs of a septic problem, including foul smelling odors, overflowing toilets or slow drains. Just like any other issue in your home, it is necessary to find the source of the problem first. An accurate diagnosis is key to a long-lasting solution. But how do you determine what is malfunctioning in pipes that are out of sight or under the foundation of your home? Modern septic experts use video camera inspections.
What is Septic Camera Inspection?
To inspect your septic lines and locate potential issues, a special tool is used. Camera inspection technology involves a video camera head that is connected to a flexible cable so that it can easily be inserted into the main sewer line cleanout and/or snaked through the pipes. The images can be viewed by technicians above ground in real time to ensure you get an accurate diagnosis of your septic problems without disrupting your landscape, home or property.
What Can Camera Inspections Tell Us?
Camera inspections cannot diagnose all septic problems, but they can capture most of them. At Metro Septic, we use digital cameras to quickly and conservatively detect the following:
Cracks and fractures in pipes
Crushing of flow that could restrict pipes
Corrosion problems
Presence of roots intruding your lines
Condition of inlet/outlet baffles determine tank capacity levels
Solid waste levels and proper flow of water
Overall septic operation including its conveyance system and distribution box as well as the absorption field and drainage system
Schedule Your Septic Repairs Today!
At Metro Septic, we know the urgency of solving septic problems within your home. You can trust us for flat rates, honest service and prompt repairs when you need it most. To learn more about video camera inspections or to schedule a septic repair from our Cartersville team, please contact us today.