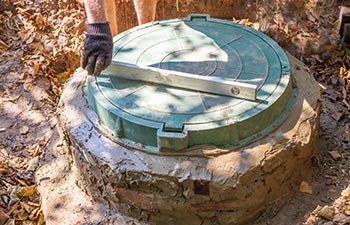 A new septic tank installation can be performed when upgrading or replacing an old septic tank or when putting your home on a septic system for the first time. In either case, the project can be smoother and more successful if done by a skilled septic professional. However, there are also some things you can do on your end to prepare your home for a septic tank installation.
Want your septic tank installation to be easy and stress-free? Here are some ways that homeowners can prepare:
#1 Remember to Remove the Old Tank (if necessary)

If you are replacing an existing septic tank, it is important that you schedule its professional removal and disposal. Don't forget about this task as you plan the timeline of your septic tank installation, as this can cause delays if it is a last-minute thought.

#2 Test Your Soil

While not on the radar of the average homeowner, the quality of your soil plays a significant role in how well your new septic system will be supported. The drain field and septic tank relies on a certain type and quality of soil. Take the time to properly test your property's soil before the permit application and tank installation.

#3 Have Enough Supply of Drinking Water

During your septic tank installation, it may be necessary to temporarily turn off your water supply. Don't be caught without drinking water, especially if it is during the summer and you have small children.

#4 Plan a Place to Shower and Use the Bathroom

Again, if your water must be turned off, you'll need to find somewhere else to bathe and use the restroom. Many homeowners secure a neighbor or friend's house to use during the installation process.

#5 Inform Your Neighbors Know About the Pending Work

As with any major project performed outside the walls of your home, it is polite to let your neighbors know about your upcoming septic tank installation process. This allows them to prepare for any level of inconvenience or disruption.

#6 Clear Your Yard

Finally, it is important to create a clear space and path for the septic tank installation team. This includes temporarily removing lawn furniture, yard toys, vehicles and other items that could cause an accident, damage or simply slow down the process.
If you'd like to learn more about how you can have a seamless and successful septic tank installation, call Metro Septic in Cartersville. We have the skill and experience it takes to satisfy our customers every time.