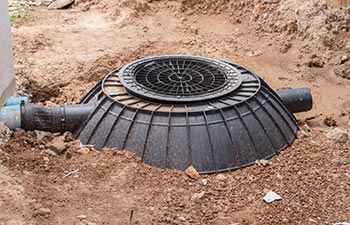 Are you considering septic tank installation? Whether you are building a new home or simply replacing your old tank, a proper septic system installation requires a multi-step process performed by a knowledgeable and experienced professional. While there are countless companies to choose from when hiring a septic tank installation crew, we encourage you to do your research and ask the right questions to be sure you are making the best investment for your home's future plumbing.
Are You Hiring the Right Company?
When it is well-installed and properly maintained, a septic tank should last decades. Unfortunately, a poorly-installed tank can fail in as little as a few weeks. This can result in a significant loss of time and money. If you need a new septic tank, consider asking the following questions to your septic tank installer before you hire them:
Will you get the required property permits needed prior to installation?
Can you handle the evacuation work needed to remove the old tank and accommodate a new tank and pipes?
Will your technicians take extra precautions to preserve as much of my property's landscaping as possible during the evacuation and installation?
Will you choose an appropriate size and type of tank to handle our anticipated waste load?
Is my soil in condition to meet the demands of sewage absorption?
What will you do to provide stability to my septic system? (packed gravel, etc)
Do you also offer septic maintenance, repair and emergency services?
Are your rates affordable?
How long have you been installing and servicing septic tanks?
At Metro Septic, we proudly serve the greater Cartersville community with top quality septic system installation at great rates for your home or business. We install, repair and service all types of septic systems. When hiring Metro Septic for your septic system installation, you expect a team of technicians that are skilled, dependable and considerate. Call today to get your septic tank installation quote.