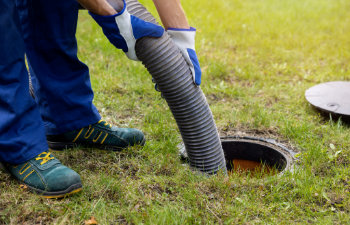 A healthy septic tank means you have a smooth-running plumbing system. It runs efficiently and without the annoyance of extra noises, odors, clogs or leaks. Just like your car, however, your septic system needs proper maintenance to keep it running smooth. This requires some effort on your part as a septic tank owner.
Here are 10 tips to protect your plumbing investment and extend the lifespan of your septic tank:
Schedule Septic Pumping Every 3-5 Years
Direct Gutters and Drainpipes Away from Your Drain Field
Tightly Seal Access Lid
Consider Routine Septic Inspection
Do Not Cover Drain Field with Concrete, Decks, Framing or other Heavy Structures/Equipment
Do Not Introduce Septic Tank Additives Before Checking with a Professional
Flush ONLY Waste and Toilet Paper
Limit Use of Toilet Bowl Cleaners
Avoid Use of Heavy Oils and Chemicals
Call a Septic Professional at the First Sign of Trouble
What More Does Your Septic Tank Need?
If you need an expert's advice on maintaining your septic system in Georgia, please call Metro Septic. We can determine what your septic tank needs in order to run smoothly for the next decade or more. Our services include septic inspection, septic pumping and septic repair at an affordable rate.
Don't wait until your plumbing smells or clogs before you give it the attention it needs. In fact, slow draining bathtubs or weak flushing could be one of your first warning signs that your septic tank needs better maintenance.