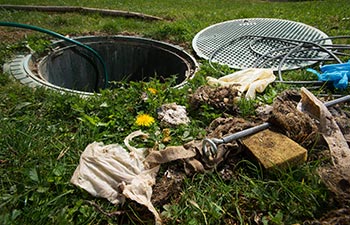 Technology continues to enhance nearly everything we do, including how we care for septic tanks. Whether you need to address an emergency plumbing problem or you are due for your routine septic tank maintenance, you should find a provider that offers the latest septic technology. This almost always involves the use of video camera inspections or video pipe inspections.
How Do Video Pipe Inspections Work?
If a backup or clog is suspected inside your pipes, there's no need to tear up your walls, floor or yard to find the problem. Instead, video pipe inspection can be performed by snaking a cable down your pipes with a special camera on the end. This cable can cover meters beneath the ground and give us live video feedback of what is going on inside your pipes.
The Advantages of Camera Inspection During a Septic Service
There are a wide range of issues that could be causing the same set of symptoms in your plumbing. Video technology offers the following benefits:
Allows us to diagnose exactly what is causing the problem in your pipes, which could be a clog, leak, corrosion, root intrusion, damage or other malfunction.
Shows us precisely where your problem is located, which saves the hassle of only exposing the affected pipes.
Saves time and money. If your home or business is experiencing a backup, the quicker the problem is diagnosed, the faster it is solved. When it comes to a restaurant or other business, this means you'll minimize the time that patrons or customers are away from your building.
Offers extensive information and peace of mind. Video camera inspections can explain why your plumbing problem is still lingering after maintenance or a high pressure jetting of your lines. In fact, this valued video footage can give you a clear picture of the overall condition of your plumbing pipes so that you know how long they should last.
When to Contact an Expert
Do have weird noises coming from your pipes, slow flushing toilets or foul odors coming from your drains? Do you wish you could see what's going on inside those pipes? Now we can. Call Metro Septic to schedule your camera inspection. We provide affordable and prompt service for your North Georgia septic system.