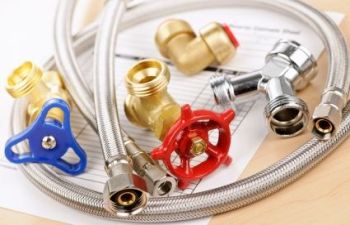 If you are a restaurant owner, grease traps are just one of the many checklist of items that you need to keep an eye on in order to for your food service environment to run smoothly and safely. Grease traps need to be properly cleaned so that costly problems are avoided. The U.S. Environmental Protection Agency estimates that nearly half of all the 400,000 sewer blockages that occur annually are caused by grease.
What is a grease trap?
Grease traps are required in all food service facilities. They are plumbing devices that prevent fats, oils and grease (or FOG) from entering into the public sewer system. When greasy wastewater enters the trap, it passes through a vented flow control and over a series of baffles that separate the grease and oil from the water. The clean water rests at the bottom and leaves the unit through an exit valve. The FOG is retained within the grease trap until it is cleaned out.
When is it time to clean my grease trap?
It is important to understand that your grease trap will stop functioning efficiently when it gets too full. The plumbing industry standard states that grease traps should be cleaned when 25% of the volume is occupied by grease (and 75% by water). As a restaurant owner, you need to carefully monitor your grease trap and look for grease accumulation on the outlet baffle. Metro Septic professionals can not only conduct your restaurant grease trap cleaning service, but they can recommend an appropriate cleaning and maintenance schedule for your specific facility to follow.
What are the ramifications of not cleaning a grease trap?
A grease trap that is not cleaned in a timely manner can bring devastating results for a restaurant business. You may suffer a loss business during temporary closure, spoiled food, as well as an injured reputation in the community.
We know you have plenty to worry about as a restaurant owner, but please be sure you know the facts on your grease trap. A properly maintained plumbing system in your restaurant can save your business.