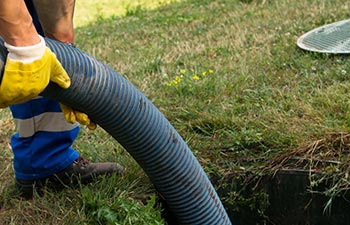 When is the last time your home's plumbing system got a good cleaning or flush out? If you are like most homeowners, you have never taken advantage of this service. The best professional approach to cleaning your drain lines is with high pressure hydro-jetting. Hydro-jetting can be performed as a maintenance to renew your septic lines or as an emergency service when there is a stubborn clog in your pipes.
Metro Septic proudly specializes in high pressure hydro-jetting as part of our complete septic services to residential and commercial in Cartersville and the surrounding communities. Our licensed professionals use the most innovative and effective methods available to make sure your sewer or septic needs are well taken care of in a timely and economical fashion.
What is Hydro-Jetting?
The process of high-pressure hydro-jetting involves forcing water under varying amounts of pressure into your septic lines or other plumbing pipes. A high-end nozzle that is mounted on the end of a heavy-duty hose will powerfully extend cleansing sprays through your pipe walls. This advanced cleaning method can be take care of grease removal, sand flushing and root cutting with ease.
The Benefits of High-Pressured Water Jetting
Whether you own a home or a business that relies on a septic system, it is important that you recognize the advantages of regularly scheduled hydro-jetting. It is especially beneficial if your drain lines have not been cleaned in several years or if you are experiencing slow drains and other signs of a clog.
In general, hydro-jetting for your septic lines can offer the following benefits:
No use of chemicals or toxins.
The process can be repeated every year.
Hydrojetting can increase the value of your home by restoring your pipes to their former condition.
The hydrojetting process can be complete in a couple hours with very little disruption to your home.
Safest and most eco-friendly way to clean pipes, drains and renew your plumbing system
If you suspect build-up in your septic lines, call Metro Septic today to learn if you qualify for hydro-jetting at an affordable rate.