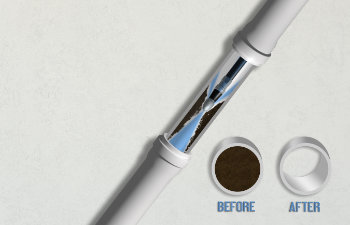 Most homeowners can handle the cleaning of their sinks, showers, toilets and other plumbing fixtures. But what about the plumbing parts that go beyond your reach? Your drain lines, pipes and septic tank also need cleaning, but this is a job for a professional. At Metro Septic, we proudly use high pressured hydro jetting, the safest and most preferred septic cleaning system available.
Hydro jetting is simply the process of using highly pressurized water to remove blockages and buildup that develop inside your pipes or septic tank components. It's like power washing the inside of your plumbing system.
At Metro Septic, we recognize the many advantages of using high pressured hydro jetting, which include the following:
Effective Cleaning
Hydro jetting is a trusted method for removing troublesome plumbing blockages, but it also effectively cleans the inside of your pipes in the process. This includes blasting away grease, mineral deposits, dirt, and other debris that has built up over time.
Safe and Chemical-Free
Hydro jetting only involves water – and nothing else. You won't have to worry about chemicals harming the inside of your drain lines or toxins spilling on your property.
Quick and Easy
Hydro jetting demands minimal equipment and labor. Our Metro Septic professionals can easily carry out this service in a short amount of time.
Long-Lasting Results
Hydro jetting can fully clear your drains so that you can prevent future clogging and avoid frequent cleaning services.
Are you ready to schedule water jetting for your drain lines in North Georgia? Let us help. Metro Septic proudly offers affordable hydro jetting and other high-tech septic services to residential and commercial customers in the Metro Atlanta area. Our company is built upon honest, flat rate pricing and fast, courteous service. "We say what we do and do what we say."
Contact our Atlanta High Pressure Hydro-Jetting Company today to schedule your drain line cleaning.