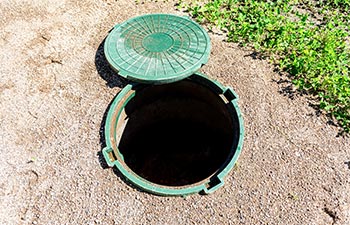 When it comes to preserving the longevity of your septic system, there a number of things to keep in mind. Besides scheduling a routine septic tank pumping and being mindful of what you flush, it is also a good idea to consider an effluent filter
An Effluent filter is installed directly on the outlet of the tank. Its purpose is to prevent solids from exiting the tank into the drain fields. This not only protects your drain field, but it also prohibits raw sewage from prematurely leaving your septic tank for a healthier environment. Effluent filters operate for several years or more before they need replacement or cleaning. It is recommended that your effluent be cleaned at the time of your regularly scheduled septic tank pumping, or about every 3 years.
If you notice that solids or raw sewage are entering your drainfield, it is important to call a professional right away. You are not only at risk for contamination, but it may be a sign that your septic tank is failing. While an effluent filter is designed to protect your drain field from this issue, it may be necessary to examine other components of your septic tank to determine why the solids are leaving the tank.
At Metro Septic, we know it can be difficult to understand all of the septic tank accessories and determine which products are truly necessary for your septic system operation. We carry a full line of effluent filters and other septic accessories to help you maximize your septic investment and prolong the life of your system. Our technicians will recommend the best product for your home's water usage and septic tank size.