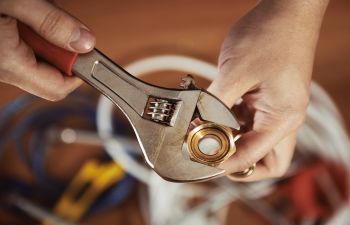 While they are rare, a leak in your gas line can be extremely dangerous and even fatal for your family if it is not detected and addressed in a timely manner. Beyond having your gas line inspected annually by a professional, it is important that you understand what can cause a gas leak in your home and how to detect the warning signs early.
Gas leaks can occur at any time, and they are not always preventable. However, properly maintaining your appliances that use gas is important, especially if you have an older model appliance that allow carbon monoxide to build up in a tight space. Gas lines can crack over time and the seals throughout the line can also fail due to normal wear and tear. Therefore, it is imperative that you let a qualified plumber monitor your gas lines and evaluate them for damage. The consequences of a compromised gas line are too dangerous to risk.
Signs of a Gas Leak
Natural gas is colorless, odorless and lighter than air. For safety, the gas you have in your home includes an added odor to help you detect a potential leak. If you notice the following signs of a gas leak, take action immediately:
A rotten egg odor.
Discolored or dead grass over or near the pipeline.
A hissing, whistling or roaring sound near a gas appliance or pipeline.
Dirt/debris blowing into air.
Persistent bubbles in water-covered areas.
Flames (if a leak has ignited).
What To Do
If you have detected a potential gas leak, it is equally important that you know what to do. A gas leak is not something you can drag your feet on or avoid repairing. Even if you don't have full confirmation that it is a gas leak, it is best to take the following action steps to protect your family:
Leave the area immediately.
Warn others to stay away.
From a safe place, call Metro Septic and Plumbing.
Metro Septic and Plumbing is a family-owned and operated business with a combined 25 years of experience at handling gas leak repairs. You can trust our reliable plumbers to get your gas turned back on as fast as possible. Our team proudly offers 24-hour emergency services for your unexpected, yet urgent plumbing and gas line concerns. Never attempt to repair a gas line by yourself!