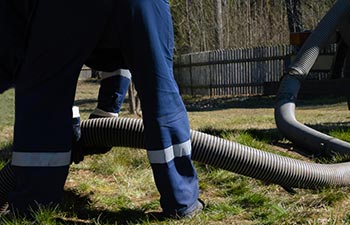 Whether it is a clock alarm or fire alarm, alarms are meant to alert us of something important that we may have otherwise missed. Septic tank alarms are no different. Many septic tanks are equipped with a special, built-in alarm system. These alarms are designed to go off when the water level in your septic tank is either too high or too low. Either situation could lead to a serious problem if left unattended.
Reasons Why Your Septic Alarm Is Going Off
Septic alarms can be critical to preventing damage to your septic system, costly repairs or catastrophic problems on your property. There are several reasons why a septic alarm would go off, including the following:
Power – Is your power switch turned off at the pump?
Overuse – Are you using your system more than usual? (Extra houseguests, more laundry/dishes)
Heavy Rain – Has there been a heavy rain that caused groundwater seapage into your tank?
Parts Issue – Are the internal parts of your septic tank (pump, timer, floater) working properly.
What to Do When Your Septic Alarm Sounds
Like any other alarm, you'll want to first turn off the alarm so that you can eliminate the sound and concentrate on your next steps. Note the colored lights that may be on. A green light typically confirms the alarm has a supply power. The red light indicates the water level is approaching a concerning level. Without hesitation, call a septic professional when your alarm is going off. At Metro Septic, we value the importance of prompt, professional and honest service when it comes to responding to a septic tank alarm. In most cases, we can diagnose the reason your alarm went off and quickly provide a solution before damage occurs.