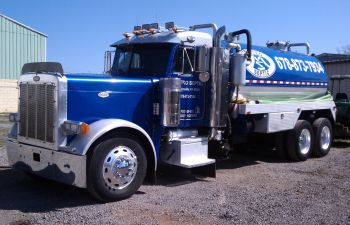 If you have a septic tank, you probably know by now that it needs to be pumped on a routine basis or when the solids that accumulate in the tank begin to reach the tank's storage capacity. This usually means every 3 to 5 years, but it depends on the size of your tank and the number of occupants in your home. This one service appointment is perhaps the most important task your septic system needs to maintain its efficiency and health. Without a septic pumping, you are putting your family or business at risk for costly and unsafe septic backups.
If septic pumping is so important, what exactly does it entail. Here's a closer look at what you can expect when professionals show up at your home to conduct a septic tank pumping:
The technicians will first locate and expose your septic tanks access lids, usually found just below the ground surface. When the lids are uncovered and open, the liquid level of the tank is noted in relation to the outlet pipe.
Next, a strong vacuum-type hose is lowered into the tank to begin the pumping process. The hose is attached to a professional truck that essentially sucks out the solid and liquid wastes from your septic tank.
Further tools and techniques will be used to ensure your tank is completely cleaned out, such as backflushing to loosen sludge from the corners and other special washing methods.
Now that the tank is empty and clean, the technicians will examine the inside of the tank to note any structural damage, including faulty baffles, cracks, open weep hole, leaking midseam, etc.
Before the service call is complete, our professionals at Metro Septic like to discuss with the homeowner or business owner about any potential repairs that may need to be done as well as ways they can better take care of their septic system, such as not flushing certain items and how to reduce water usage.
Still have questions about what a septic pumping involves or why it is important? We'd love to speak with you. Call Metro Septic today – we are who Cartersville trusts for exceptional septic services at an affordable rate.