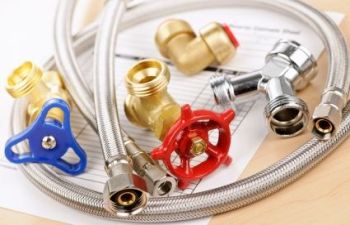 Natural gas is a clean and efficient energy source for your home and it is one that over 50% of Americans use as their main heating source. However, when a gas line leaks, it is very dangerous. Here are some helpful tips when it comes to helping homeowners detect a gas leak as well as the necessary action steps to follow to keep your family safe and remedy the problem.
The first sign of a gas leak is usually sulfur or rotten egg odor. This odor is purposely added to natural gas so that leaks can be detected easily. Other telltale signs of a gas leak include the sound of hissing or whistling near a gas appliance as well as the visible appearance of a damaged connection of a gas appliance or even dead or dying vegetation (in an otherwise moist area) near pipeline areas. If you have any suspicion at all that gas is leaking in your home, here are some important steps to follow:
Do not attempt to locate the leak.
Do not turn on or off any electrical appliances.
Do not smoke or use any open flames.
Leave the house.
Call 911 and/or the utility company (such as Atlanta Gas Light for local residents).
Do not attempt to repair the gas line yourself.
Call a licensed professional, such as Metro Septic and Plumbing, to repair the gas line.
Once a professional safely turns off your gas, you can trust Metro Septic and Plumbing to handle your gas line repairs. They are specifically trained to follow the required state gas codes as we repair your gas line successfully. By educating yourself on the potential dangers of a gas leak in your home, you can safely enjoy this popular and efficient energy source in your home this winter. Perhaps the most important thing to remember when it comes to natural gas in your home is to enlist professional help immediately upon the first sign of a problem or leak suspicion.