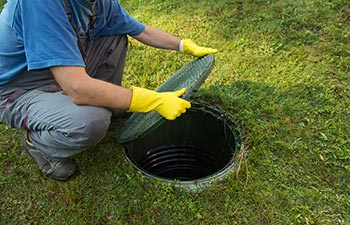 A septic tank inspection should be performed by a licensed professional. It is a service that examines the condition of all parts of your septic system as well as its total efficiency. Inspections are often required by mortgage companies prior to buying a home, and they can be an important way to avoid costly septic tank problems in the future.
How do you know if you should have your septic tank inspected? There are many reasons why a septic inspection should be scheduled, including the following:
Within two years after your house has been sold or bought
When your property has changed or expanded
Every 2-3 years if your tank is shared by two or more structures
When there are warning signs of septic tank problems, including slow-drains, foul odors, toilet flushing issues, several clogged drains, soggy area near septic tank or drain field, sewage backup or possible water contamination.
What Happens During a Septic Inspection
During a full septic inspection, you can expect a septic expert to do the following:
Identify content level and capacity of tank
Check for tank leaks
Inspect drain line
Test for backflow prevention
Perform sludge test
The sludge test is an efficient method for determining how much sludge has accumulated in the tank over time. If it has reached a certain level, it is time for you to schedule a septic tank pumping or else you may face septic backups and other disruptive problems in the near future.
Perhaps you've just bought a home and aren't sure what your septic tank needs are? Maybe you are consistently facing slow-draining fixtures or clogged drains in your home without a real solution. These are times in which a septic tank inspection can give you the answers you need. At Metro Septic, we have professionals who are equipped to perform all types of septic services to restore your health to your plumbing system, including septic cleaning, drain field repairs and pipe replacement. Call today to schedule your septic inspection near Cartersville today.