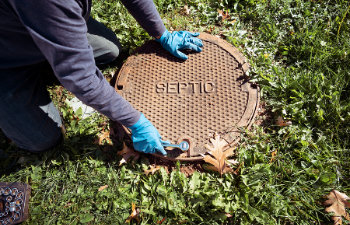 When healthy and strong, your septic tank will do a remarkable job of handling wastewater for your home. However, if you ever notice your septic tank leaking, it is time to take action. Leaking septic tanks can cause your foundation, vehicles, yard and other surrounding areas to be contaminated with sewage waste. At Metro Septic, we are fully equipped to respond to septic emergencies such as this. Once we fix the issue, however, it is important to recognize and address what caused the leak in the first place.
Top Causes for Septic Leaks
Understanding why your septic tank is leaking wastewater can help you avoid this smelly disaster in the future.
Broken Backwater Valve
Damaged Baffle
Broken Drain Field
Clogged Separator
High Water Level
The average homeowner isn't qualified to evaluate or address these septic tank issues. It is important to leave your septic emergencies to a professional – for your own safety and the health of your tank.
Preventing Septic Tank Leaks and Other Emergencies
Thousands of dollars in repair costs can be avoided by simply taking preventative measures with your septic tank. A simple septic tank inspection and septic cleaning can almost always catch damage or malfunction in your tank that could eventually lead to leaking sewage.
At Metro Septic, we can give you an accurate recommendation for how often your specific septic tank should be inspected, cleaned and pumped. Our experts use the most advanced technology in the industry to ensure these maintenance services are performed quickly, effectively and with minimal disruption to your home.