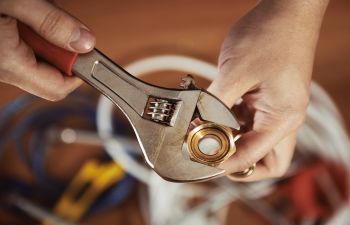 Unless you live in a very rural area, you've likely got countless plumbers to choose from. Beyond making sure your plumber holds the proper licensure and insurance, it is also important to ask about their business hours or availability. If your plumbing company doesn't offer 24-hour service, you may want to rethink your choice. 24 hour plumbers exist to address one main thing – plumbing emergencies! Who wants to be caught without professional help when an emergency occurs?
Emergencies of any kind can be stressful and overwhelming, and plumbing emergencies are no different. Plumbing emergencies can cause damage to your house, your wallet and your safety. Most importantly, plumbing emergencies require timely attention, as you can't expect most plumbing issues to get better on its own. Instead, a small plumbing emergency can quickly turn into a major plumbing disaster. Whether it is your home or business, we urge you to have a 24-hour emergency plumber on call!
Types of Plumbing Emergencies
Unfortunately, plumbing emergencies don't always happen during normal business hours. While some types of problems can wait several hours to be addressed, there are many plumbing issues that need immediate or timely action. At Metro Septic, we are proud to be a 24-hour plumber that handles the following plumbing emergencies:
Overflowing toilet
Stopped-up sink drain
Burst pipes
Leaking pipes
Gas leak
Sump pump failure
Water heater malfunction
What's at Stake?
As mentioned previously, plumbing emergencies typically don't come without threats to your house or building. This can quickly drive up the cost of repairs if your plumbing emergency isn't addressed promptly. Beyond damage to your pipes, fixtures and other plumbing system components, you may also experience structural damage from flooding or backups inside your house. This can lead to the replacement of ceilings, carpets and even electrical sections. If you are on a septic system, the consequence of neglecting or waiting to address an emergency can result in major septic repairs that can disrupt your business and raise your bill.