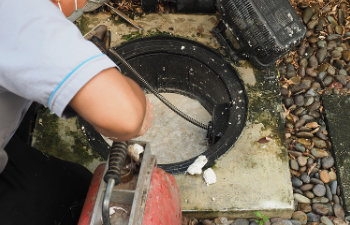 Your grease trap is an important (and often overlooked) part of your kitchen's plumbing. It keeps your commercial establishment running smoothly and protects your community from pollution and plumbing complications.
If you don't think about your grease trap too often, then it is probably doing its job. Once your grease trap starts to stink, however, it's nearly impossible to ignore.
Why Grease Traps Stink
In addition to fatty waste, grease traps can collect organic particles from other food waste. As these organic bits are broken down by bacteria, the bacteria give off foul odors. Over time, these smelly gases can start leaking out of your grease trap and welcome your customers to your restaurant with a not-so-welcome stench.
How to Beat the Stink
Try to minimize the amount of food solids that go down the drain when washing dishes. This will help slow down the accumulation of organic matter in your grease trap.
Floor drains in your kitchen that don't get flushed out often enough can dry out and lose their water barrier, letting grease trap odors waft through. You can mitigate this problem by periodically dumping water (boiling water, ideally) down drains that get little use.
There is also a temporary fix you can use to counteract grease trap stench. Pour about a cup of baking soda into the stinky sink drain. Wait a couple of minutes and then pour in a cup of vinegar. Let the mixture bubble for ten minutes before rinsing it away. Unfortunately, this solution won't be long lasting.
Professional Grease Trap Cleaning in Cartersville
Ultimately, the most effective and long-lasting way to treat grease trap odor is to have your trap cleaned regularly. For affordable and quick grease trap cleaning services in the greater Atlanta area, call Metro Septic Plumbing. We can help you avoid closing your restaurant due to a stinky or clogged grease trap.